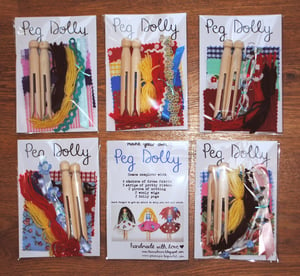 £

4.00
Design your very own Peg Dolly.
Kit comes complete with:
4 choices of gorgeous dress fabrics
2 strips of pretty ribbon
2 squares of netting, perfect for fairies
2 wooly wigs
& 2 naked pegs, waiting to be dressed by yours truly!
There are five different packs to choose from, but colour may differ slightly subject to availability) . They are numbered from the top left, round in a clockwise motion.
For more information and pictures, click here and for ideas on how to make your Peg Dolly, click here
(Children must always have an adult to help them when using scissors and glue)